Jump to Recipe
Pizza cupcakes, made with semolina, vegetables and cheese are perfect to have in breakfast or any other time of the day,
I love calling them Pizza cupcakes because of two reasons. The first is that it has everything that is there in a pizza (except yeast). It is an easy and healthy variant of regular or even whole wheat Pizza as the use of cheese is minimum and the other is that the name itself arouses enthusiasm whoever eats them.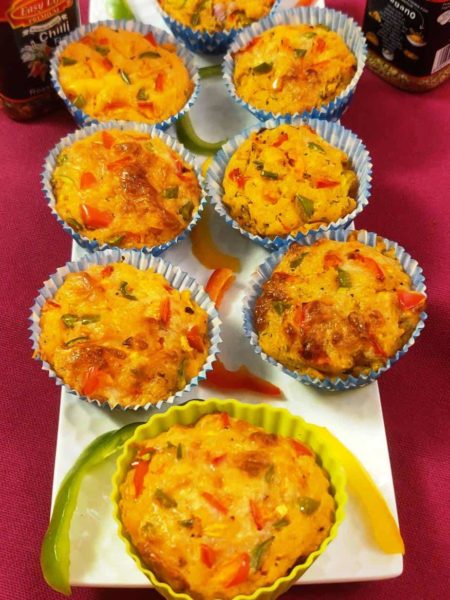 Baking muffins has no novelty value for me as I started my baking journey with muffins only. But all these years I baked only sweet muffins be it Chocolate muffins or Banana Walnut or Breakfast muffins or any other.
This is the first time that I baked savory muffins. But I am glad I did as the result was pretty good.
These Pizza Muffins are something you must try. Make these with whatever veggies you have in the refrigerator. Though I made with some exotic ones like bell peppers, corns, etc as I had to prepare my post as well with some good pics (otherwise, you know what I mean) but you are free, so go ahead. 
Okay, imagine this. You got late in the night, so no preparations for morning breakfast/lunch. And when wake up early morning, just couldn't understand whether to prepare breakfast or lunch box in the limited time you have. Tell me one thing, does this happen with you also or am I the only one? Then, simply mix up the batter for Pizza Muffins, with just onions and capsicum and some handy pizza seasonings. Put them in the oven and you have time to prepare the lunch box. The oven will bake your breakfast and you make your lunch box.
If you are looking for some other breakfast options then have a look at these:
Yeast-Free Pizza Muffins
Do you know what is the best thing about these Pizza Muffins? That is that these are yeast-free. So, if you have inhibitions about using yeast then don't worry. This one is a simple recipe. No yeast means No Proofing time. And no proofing time means no delay. Just mix and bake. To leaven the batter, we use baking powder.
Read: If you are looking for yeast free pizza dough then check this.
 

No Or Very Little Cheese
Another good thing is that you can easily cut off the cheese. So, these are full-on healthy bites for your darlings. Semolina, veggies and baked. What more can you ask for ? Give them in breakfast or in a lunch box or in the evening or basically any time. They won't say No and you wouldn't mind either. So, a win-win situation for both. Isn't it?
Why You Will Love This Recipe
No all-purpose flour, instead, healthy flour is used.
 Yeast-free
Quick to make
Easy to make
No/Less cheese
Perfect for lunch-box
Step By Step Recipe
Finely chop whatever veggies you wish to add. I used onions, capsicum and bell peppers.
In another bowl take curd, tomato ketchup or Pizza sauce, oil and cheese. Mix everything and beat for a minute or two.
Take semolina in a bowl and mix in all other dry ingredients.
Mix in chopped veggies also. Reserve 1 tbsp or so for putting on the top before baking.
Add wet mix into the dry mix and using cut and fold method mix gently. The mix will be very thick only. However, if have difficulty in mixing then add a tablespoon milk.
Start preheating the oven at 180 degrees C.
Arrange muffin liners in the muffins pan/moulds.
Lastly, add vinegar to the batter, mix lightly.
Put a scoop full of batter in the muffin moulds.
You can bake as it is or put little veggies and cheese on the top.
Bake for 28 to 30 minutes till golden from the top and skewer inserted comes out clean.
Serve or pack in the lunch box.
My Pizza Collection 
If you are fond of Pizzas, then have a look at my collection of different types of Pizzas which include vegan and gluten-free pizzas too:
Isn't it amazing! Do try and share your feedback regarding this.
Let's Connect
I hope you have liked this easy recipe of making Vegetarian and Eggless Pizza Muffins and will surely try it out for your loved ones.

Thank you for reading this post. If you have liked this recipe then do let me know by leaving a comment below. Your feedback fuels my enthusiasm. You may share this post with your dear ones by clicking on the little buttons below. You may follow me on  Facebook   Pinterest  Instagram for the latest recipe updates. Thank you!

 
Testimonials