Apple Kheer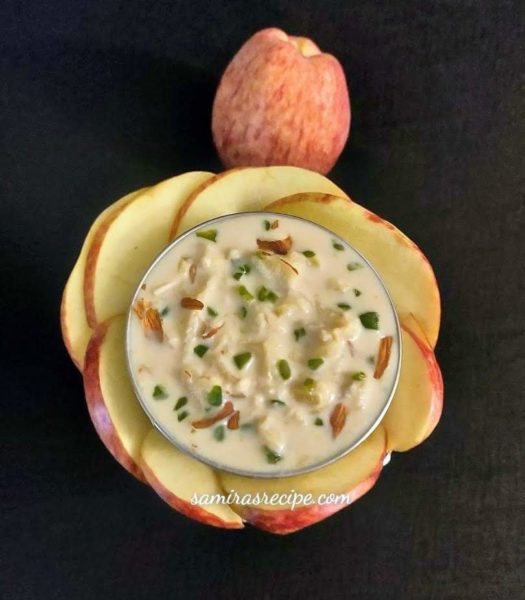 Apple Kheer is a very light and healthy kheer and is undoubtedly a pleasant change from the usual Rice or Makhana (Foxnuts) Kheer.
As apples are available throughout the year so this Kheer can be made anytime and is a perfect dessert for the fasting days or even for the Festivals like Diwali, Rakhi etc.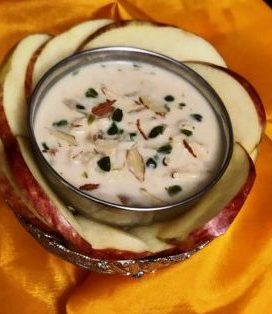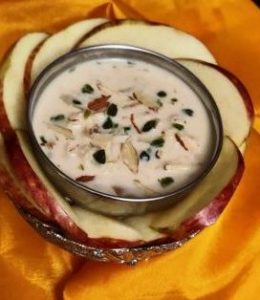 It seems Kheer recipe was destined to be posted this month. I wanted to post My Rice Kheer recipe but have not been able to due to lack of pictures. Though I made it many times recently but couldn't click pics as was always in a hurry. And in between came up this Apple Kheer. Since Holy Navratras are also going on so this is perhaps the best time to bring up this post.
Unlike other varieties of kheer, Apple Kheer is quick to make, made without any fat (ghee) and uses very little sugar. The sweetness of apples is enough and thus the sugar quantity is reduced considerably.
Though I had certain inhibitions before making this Kheer but after assurance given by my sister in law Vandana Gupta, I tried it without giving it a second thought. She was full of gaga for it so I followed her recipe only and made this Kheer.
Apple Kheer is a very easy recipe but you need to keep just one thing in mind. And that is that Apple and milk are cooked separately and then mixed together. This is because Apple has acid (pectin) and if added directly to the milk then it will curdle the milk and you will land up having apple cottage cheese (paneer) instead of kheer. Because of this reason, grated apple is cooked first and then added to the reduced milk.
The best thing about desserts made with fruits is that you require very less amount of sugar due to the natural sweetness of the fruits. I used only 4 tablespoons of sugar in 1-litre milk. Isn't it cool?
You can add raisins and dates also in this kheer which will further reduce the sugar quantity. Add these along with the cooked apples only.
For this Kheer, I grated apples slightly thickly. You don't have to peel apples, just wash and grate.
Then cook the grated apples with sugar in a pan. When all the moisture is gone, after about 5 minutes then switch off the flame. Then it is added to the reduced milk and again cook it for just 4 to 5 minutes. That's it!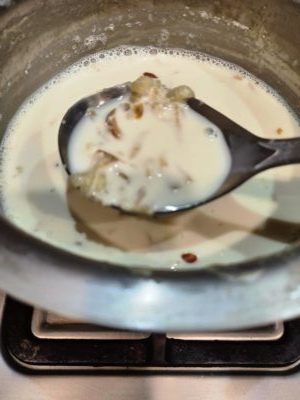 When chilled it thickens up...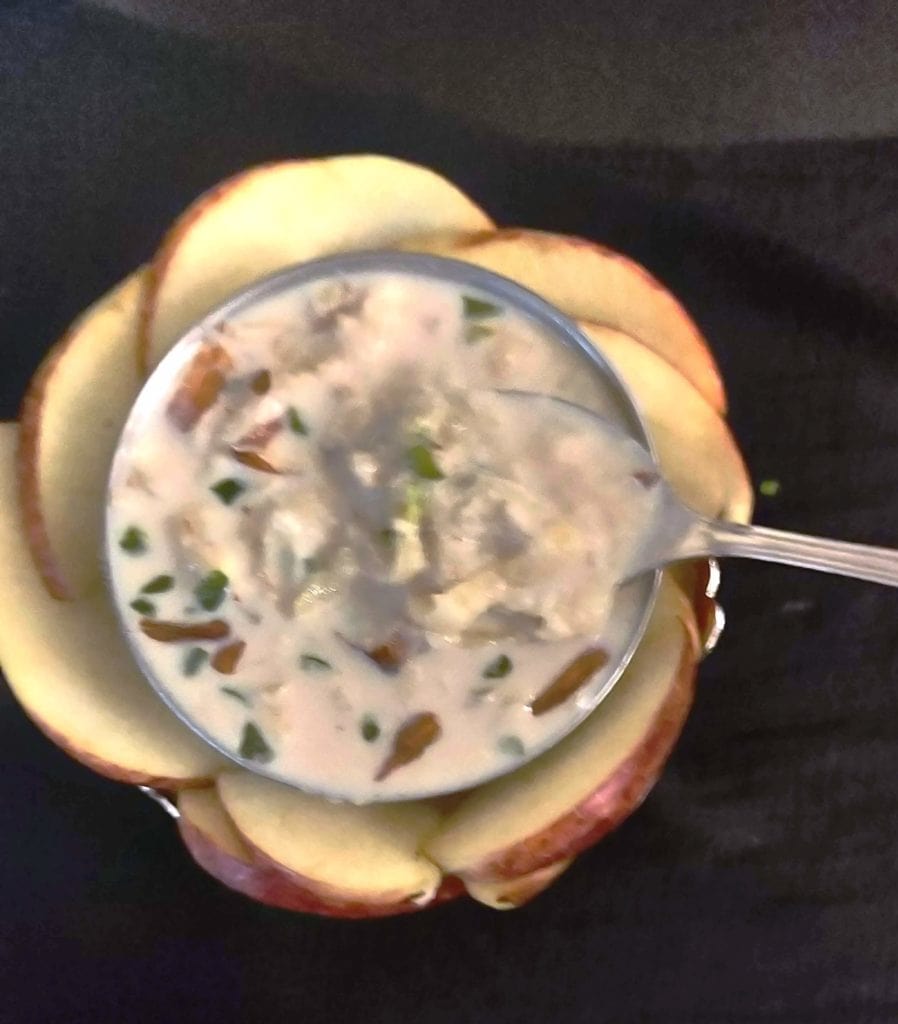 Other Apple recipes which you may like are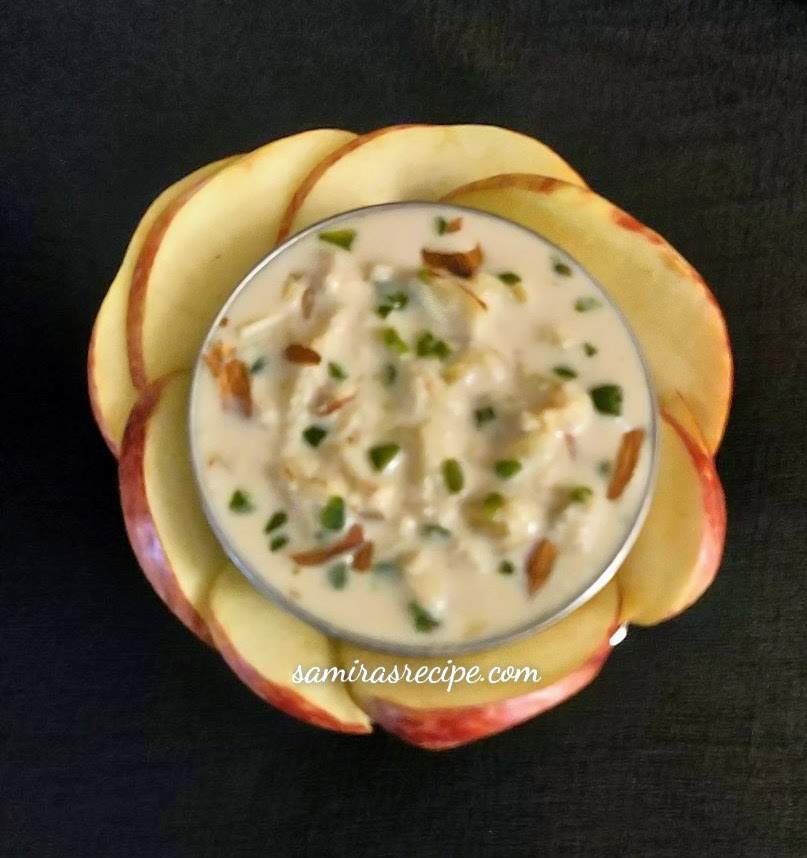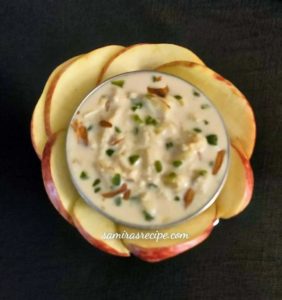 Apple Kheer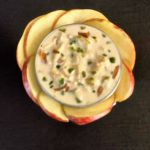 Apple Kheer is perfect for all those who are looking for no fat, little sugar, easy and quick to make dessert. Ideal for fasts and festivals. A pleasant change from the usual and routine Kheer.
1 litre Milk
1 Piece Apple (roughly 250 g)
4 Tablespoon Sugar
1/2 Teaspoon Cardamom powder
1 Tablespoon Dryfruits (almonds, pistachios) chopped finely
Boil milk in a heavy bottomed pan. Reduce it to little less than three fourth on low flame. While the milk is reducing, stir it every now n then so that it doesn't scald from the bottom. Also, do not forget to scrape the sides of the pan also.

In between, do the other preparations. Chop nuts, crush cardamom and keep it aside. Wash the apple, grate it. Depending on the size of the apples, take 1 or 2 apples. You need approximately 250 g, so take accordingly.

In a non-stick pan, put grated apples and sugar. Saute it till all the moisture is gone and the mix gets dry. It will take about 4 to 5 minutes only. Let it cool.

When the milk is reduced to a little less than three fourth then add the cooked apple mix. 

Stirring continuously, cook for 3 to 4 minutes so that everything is blended well.

Switch off the flame. Add cardamom powder and nuts.

When slightly cool, keep it in the refrigerator.

Serve chilled with love.
Take heavy bottomed vessel for reducing milk otherwise, the milk may scald quickly.
No need to peel apples.
I used a thick grater. You can use the same or a normal one.
Cook the grated apples immediately otherwise they will get discoloured. In case you grate them little earlier then put them in water till the time of cooking.
Cook grated apples in a non-stick pan only. If using normal pan then add little (1/2 teaspoon) ghee and then add apples so that doesn't stick to the pan.
The Kheer thickens on cooling.
You can add chopped dates and raisins in this kheer and thus reduce the quantity of refined sugar. Add these to the milk at the time of adding apples only. 
I am sure you will give surely try out this easy and healthy recipe.
I would love to have your comments and feedback as you know your feedback fuels my enthusiasm to post more good content. If you post your creation's pic on Instagram then remember to tag me #samirasrecipediary. You may like my FB page to know about my latest recipes.
Let's connect…
Stay Healthy...Stay Happy...
Testimonies