Summer Salads...
When one thinks of Salads - the first thing that rings in your mind is the green salad. But if you close your eyes and think of salad, it conjures in the mind, images of a dish rich in veggies and mixed with a lot of other things. Quite likely that if two or more people close their eyes they would come up with a different image of a salad.
Different, because over the years, the foodies and cooks both have been willing to experiment, innovate and play around with innumerable combinations of different ingredients that are available around the globe. The traditional definition of a Salad would be "a cold dish of various mixtures of raw or cooked vegetables, usually seasoned with oil, vinegar, or other dressing and sometimes accompanied by meat, fish, or other ingredients." Sounds very unromantic.
But today you have salad recipes using nuts, various kinds of sauces, curds, mayonnaise, fruits, meats, veggies, cheese, olives, kinds of vinegar, herbs and the list goes on and on.  Your salads could have more than half of the ingredients other than veggies. Salad making today has evolved into an art by itself involving presentation, taste and delicate play and balance of ingredients.
To each to his liking. It's quite difficult therefore to say, which is the most popular or good Salad. A good salad, in my opinion, should have some key attributes -
Looks - should be colorful and have an inviting look
Ingredients - Should have a good amount of veggies and these should be fresh and seasonal.
Dressings and Herbs - These are a very important part of a salad and lends the distinctive taste, smell, and character that a salad possesses. Remember the aroma enters the nostrils first before the food that enters your mouth.
Crunchy - Try and add one nut, be it peanuts or walnuts or pine nuts or any other, as it makes it not only nutritious but also the crunchy effect it lends, is awesome. Without the crunch, it would give a look and feel of being soggy. You could also use fried bread chunks.
It is also important that the ingredients are properly diced and cut into appropriate sizes to enhance the look, feel and taste.
It is quite interesting that different people consume it for different reasons. Everybody recognizes the immense nutritional value Salads bring to the plate apart from the good effects on the digestive system. While the obese may find them to be very suitable for fighting obesity or controlling weight, the thin or normal people may find it suitable for maintaining their figures. Some consume it as the main course in lunch or dinner, while others consume them as a good accompaniment to the main course.
For me, salads along with shakes n smoothies n desserts are the best thing to go for in summers.
Apart from the huge health and nutritional benefits, what I like about salads is that they don't involve much cooking and can be made in advance.
One can eat salads at any time of the day, as a snack or in lunch or at dinner time or to curb hunger pangs at odd hours.
You could have different salads preparations according to seasons - for summers, winters and of course some all weather salads.
If you have a love for Salads, it can become little challenging at times as to which one to choose.
But no challenge for me, because of my dear sister in law Archana Agarwal, who is referred to as 'Queen of Salads' in our family.
She makes amazing salads. So, whenever, I go to her place, I get to learn a new salad recipe. That too tried and tested.
Here, I am sharing 3 of her Summer Salads recipes... Tabbouleh, Som Tam and Pasta Salad.
Feel free to play around with the ingredients as per your taste, preferences and their seasonal availability.
Remember the Golden Rule for Salads which says...
"A Slight Deviation From The Fixed Ingredients Gives A Nice Variation"
Over to our Summer Salads recipes...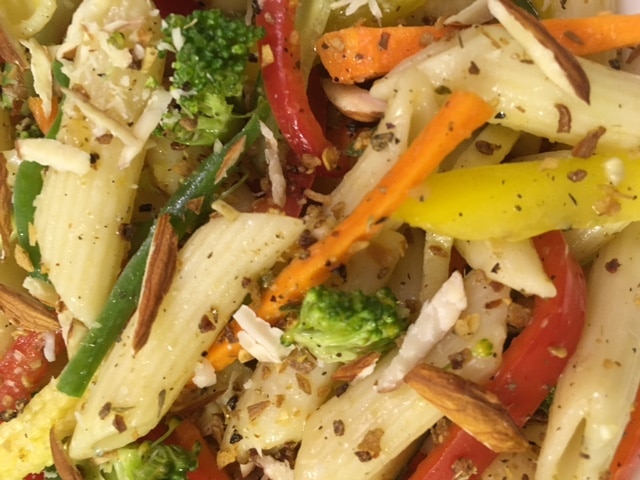 Pasta is the most sought for Italian food nowadays.
Everyone, in all age groups, love Pasta.
Red Pasta in Red sauce, White Pasta in White sauce, Green Pasta in Pesto sauce...
What about Pasta without sauce... that is without calories ???
Yes, I am talking about Pasta Salad.
Pasta salad is so amazing.
Colorful, Beautiful to look at,  Presentable, Healthy, Delicious, Quick to make, Easy, Ideal for Summers.
Pasta Salad is a no-fuss salad. To know how to make it.
Tabbouleh is a  Middle Eastern salad made with Bulgur (dalia) as the main ingredient.
Yes, you have heard of bulgur in milk as porridge or in savory form, cooked with veggies.
But Tabbouleh is in the form of salad, so no cooking involved,  to which veggies, herbs, and dressings are added and done.
Herbs like mint, parsley and  Dressing Vinaigrette gives it an awesome taste.
As far as nutritional value is concerned, I don't think I need to say anything.
Bulgur with loads of veggies.... what else can we ask for.
Its very simple to make. Gets ready in just 10-15 minutes.
Let's see how to go ahead with making
Tabbouleh
.
Green Papaya Salad called Som Tam is of Thai origin but is liked in all parts of the world.
Som Tam is an all season salad.
When chilled, it is very refreshing in summers.
This 3 ingredient salad is extremely simple to make.